San Francisco Talent Attic
**PLEASE NOTE THIS DINNER HAS BEEN RESCHEDULED for September 1st, 2020. Stay tuned for agenda updates!**
Welcome
Agenda
Speakers
Sponsors
Location
Register
Welcome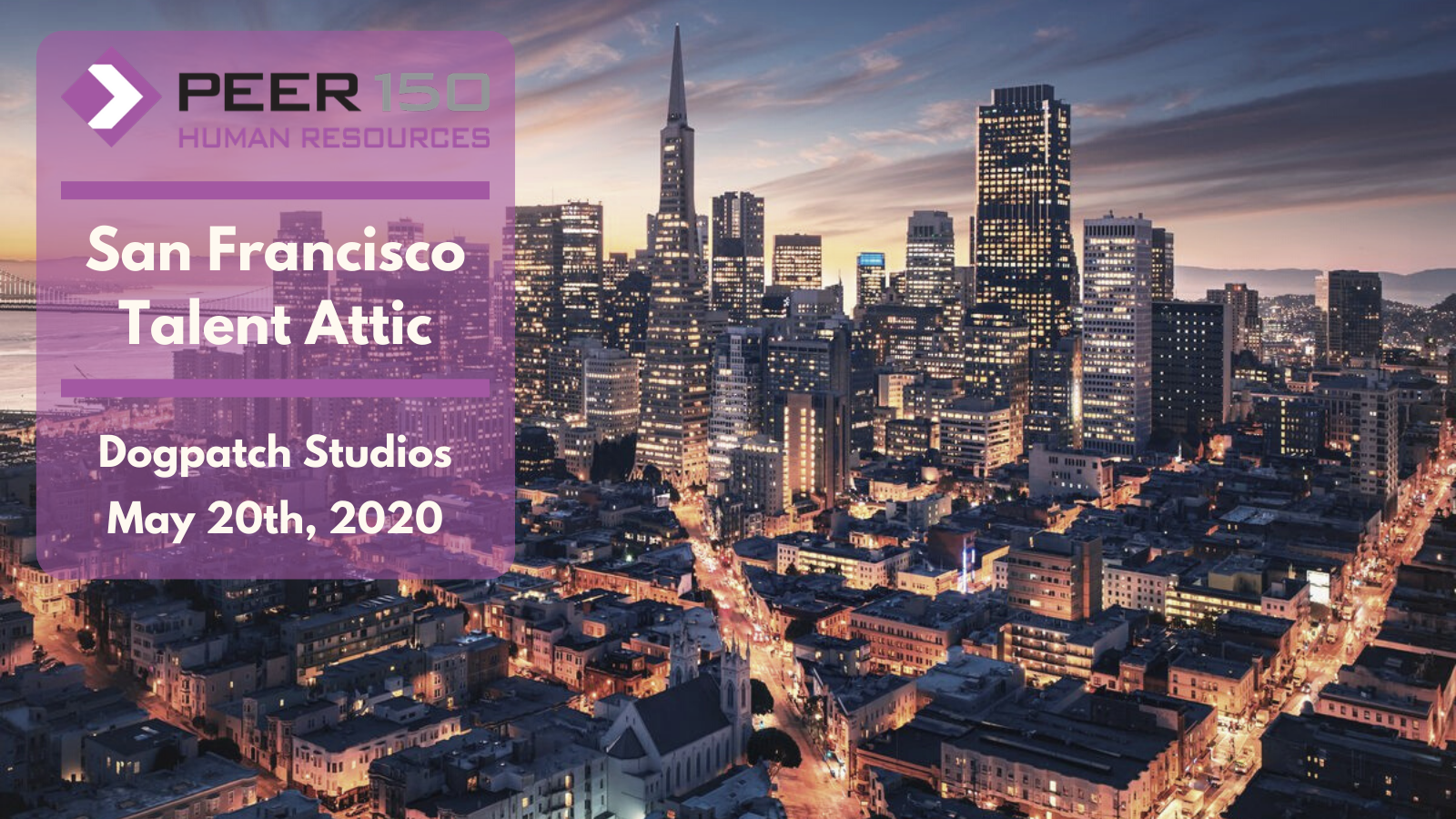 Agenda
1 8:00 - 8:45: Breakfast & Registration
2 8:45 - 9:00: Welcome Comments
3 9:00 - 9:45: Breakout 1
4 9:00 - 9:45: Breakout 2
5 9:00 - 9:45: Breakout 3
6 10:00 - 10:45: Fireside Chat
7 11:00 - 11:30: Lunch Served
8 11:30 - 12:15: Lunch Keynote
9 12:15 - 1:00: Employee Experience Keynote
10 1:15 - 2:00: Breakout 1
11 1:15 - 2:00: Breakout 2
12 2:15 - 3:00: Breakout 1
13 2:15 - 3:00: Breakout 2
14 2:15 - 3:00: Breakout 3
15 3:00 - 3:45: Closing Keynote
16 3:45: Adjourn
1 8:00 - 8:45: Breakfast & Registration
991 Tennessee St.
San Francisco, CA 94107
2 8:45 - 9:00: Welcome Comments
Cal Keizur
Senior Program Director
The PEER 150
3 9:00 - 9:45: Breakout 1
9:00am - 9:45am - Making Human Resources Human: Creating Space for Empathy and Authenticity in the Workplace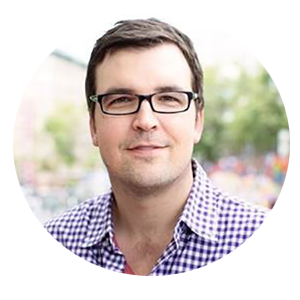 David Hanrahan
CHRO
EventBrite
A key component of employee wellness is creating an environment that allows people to bring their "whole selves" to work. This is so much more than a workplace trend, but what does it really mean and how can we best foster it? In this session David Hanrahan, Chief Human Resources Officer at Eventbrite, will facilitate a discussion around the need for employee engagement to be more focused on well-being and the benefits of building a culture that empowers its workforce to be authentic and vulnerable.
4 9:00 - 9:45: Breakout 2
9:00am - 9:45am - Business Transformers: For HR it Really is More than Meets the Eye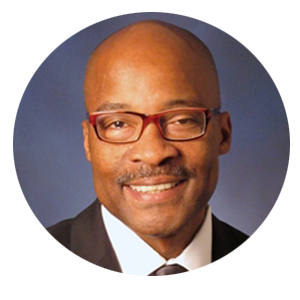 Brian Little
VP, HR
Intel Corporation
5 9:00 - 9:45: Breakout 3
6 10:00 - 10:45: Fireside Chat
10:00am - 10:45am - Unlock Employees' Superpowers with a Human-Centric Work Experience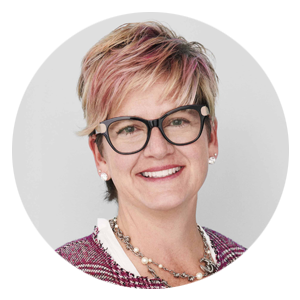 Pat Wadors
Chief Talent Officer & CHRO
ServiceNow
Now more than ever, technology is helping to shift the employee experience from menial and manual to fluid and productive. But technology alone can't solve everything. In fact, research shows that first identifying people's needs, and then adding the technologies that help them more effectively get their work done, leads to better outcomes. That's because a more human-centric design across the moments that matter with people at the heart of the employee experience factors in two important measures of success: sentiment and engagement. While the nuts and bolts of org design still matter, first understanding employees' needs, then complementing them with the right culture, systems and workspace, can create magic. Yet, in this rapidly changing digital world, how can we design an organizational structure that is based on a people-first approach? Join Pat Wadors, Chief Talent Officer at ServiceNow, one of the world's fastest growing and most innovative tech companies, for an informative and interactive session on why "technology in service of people" leads to high-performing, healthy companies that scale.
7 11:00 - 11:30: Lunch Served
8 11:30 - 12:15: Lunch Keynote
9 12:15 - 1:00: Employee Experience Keynote
12:15pm - 1:00pm - Radically Rethinking How We Thoughtfully Design the Employee Experience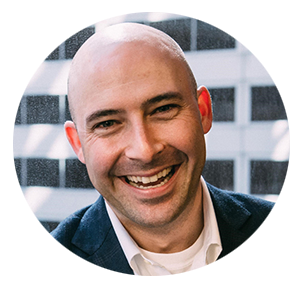 L. David Kingsley
Chief People Officer
Vlocity
- How can we reshape the employee experience at every stage of the lifecycle; from candidate to new hire to employee to manager?
- What are the key "moments of truth" that drive each individual's experience at your business and what do we need to change?
- How can we purposefully build and maintain a scalable culture focused on the employee experience as we rapidly grow?
10 1:15 - 2:00: Breakout 1
11 1:15 - 2:00: Breakout 2
12 2:15 - 3:00: Breakout 1
13 2:15 - 3:00: Breakout 2
2:15pm - 3:00pm - Scaling a Learning Culture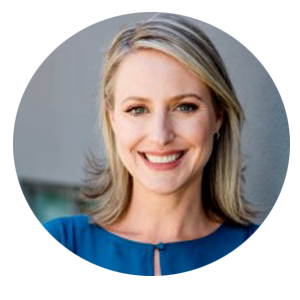 Cara Brennan Allamano
SVP, People, Places & Learning
Udemy Inc.
Key Takeaways
How transformational shifts across industries are requiring organizations to approach learning differently
What steps leaders can take to build continuous learning into organizational cultures
How organizations can develop the necessary skills within their workforce to usher in learning as a transformative force
What unique challenges organizations have faced when building a culture of learning and the unique approaches they've taken to drive continuous learning
14 2:15 - 3:00: Breakout 3
2:15pm - 3:00pm - Session Topic TBD
Alex Shubat, CEO, Espresa
Susan Lovegren, Former Chief People Officer Medallia, AppDynamics, Juniper Networks; Advisory Board Member, Espresa
15 3:00 - 3:45: Closing Keynote
3:00pm - 3:45pm - Pinterest: Infusing Inclusion, Diversity, and a Sense of Belonging
Jo Dennis, CHRO, Pinterest
Beth Karlsson, Head of Talent, Pinterest
Get to know how Pinterest has infused inclusion and diversity throughout the company: from their product all the way through to their hiring practices and community engagement.
16 3:45: Adjourn
Speakers
Sponsors
For more information about sponsorship, please contact CalKeizur@thepeer150.com.
National Partners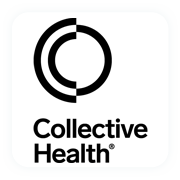 Collective Health is rebuilding everything about how health benefits work. From administering better health plans, to connecting you to the right networks across medical, dental, vision and pharmacy, to introducing an entirely new way to engage with health benefits – our platform creates an all-in-one experience you and your people deserve. We bring together technology + design + humans to redefine how you and your people experience benefits. The impact? Benefits that you are proud to give your people and control over what matters to your company. We're here to help you support your people. Simple as that.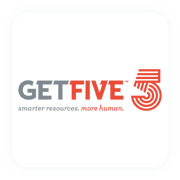 GetFive is a leading provider of scalable solutions in Modern Outplacement (moving on) and Career Management (moving up). We help employer brands reach their full potential through Active Engagement™. Invest in the success of your employees and watch your employer brand thrive! Learn more at getfive.com.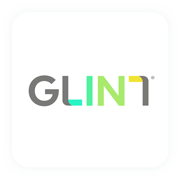 Glint is the people success platform that leverages real-time people data to help global organizations increase employee engagement, develop their people, and improve results. Leading brands like United, Intuit, and Sky leverage Glint's unique combination of intuitive design, sophisticated analytics, and actionable intelligence to help employees be happier and more successful at work. For more information, please visit www.glintinc.com.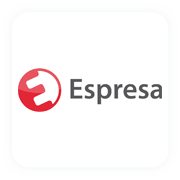 Espresa is the world's first Culture Benefits™ platform that includes a suite of integrated tools with a modern digital experience that people love. Supporting HR and people teams, Espresa drives workplace culture through employee experience and engagement programs such as, rewards + recognition, employee resource groups, wellbeing + fitness, challenges + achievements, reimbursements, and meetups + event scheduling. Discover how Espresa makes heroes out of HR teams while engaging people, wherever they are. Espresa is a global company, headquartered in Palo Alto, California. Learn more by visiting espresa.com.
Regional Partners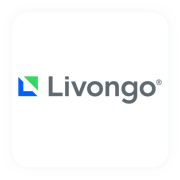 Livongo offers a whole person platform that empowers people with chronic conditions to live better and healthier lives, beginning with diabetes and now including hypertension, weight management, diabetes prevention, and behavioral health. Livongo pioneered the new category of Applied Health Signals to silence Noisy Healthcare. Our team of data scientists aggregate and interpret substantial amounts of health data and information to create actionable, personalized and timely health signals. The Livongo approach delivers better clinical and financial outcomes while creating a different and better experience for people with chronic conditions.
Location
991 Tennessee St
San Francisco, CA 94107