The PEER 150 New York CHRO Institute
SUNY Global Center
September 17th – 18th, 2019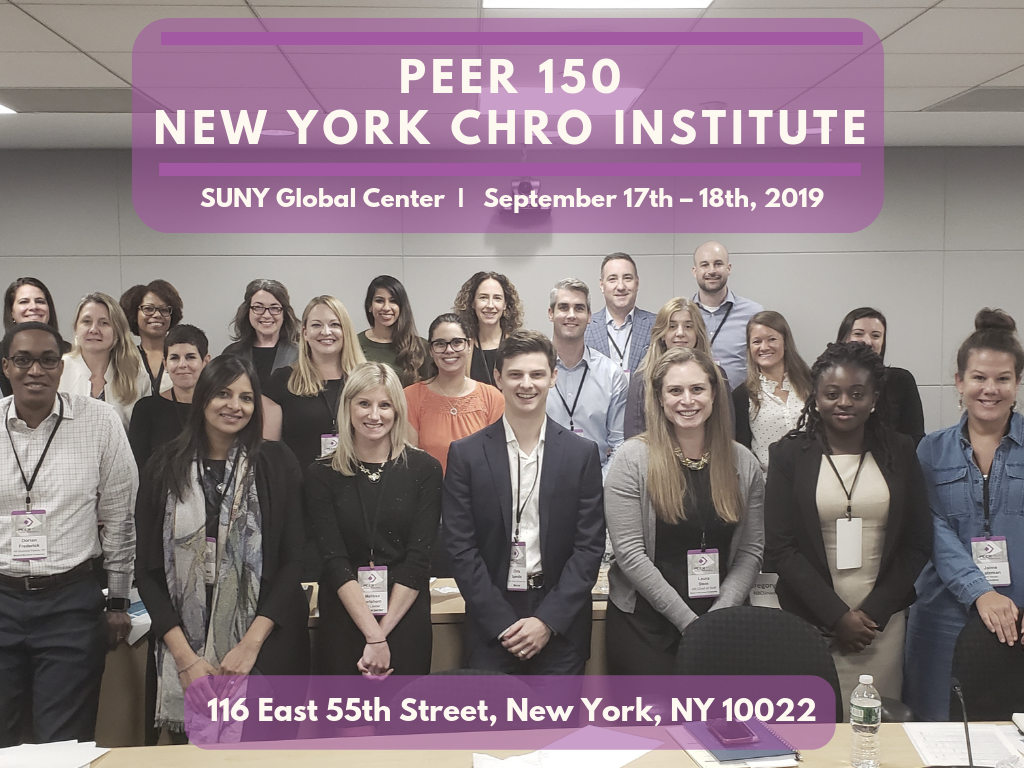 The CHRO Institute is an executive level program designed for high potential human resources executives looking to develop and enhance their leadership skills. We are unique in that we focus specifically on HR leadership challenges, rather than technology, sales or general leadership as do many other programs. Our sessions are taught and facilitated by Fortune 1000 CHROs and Columbia faculty who have foundational knowledge as well as practical, real world experience.
The CHRO Institute provides up-and-coming HR executives with an insight to the skills, techniques and disciplines of the CHRO role. Potential participants range from VP and Director-level executives from large organizations, along with small to mid-size company CHROs and VPs. The CHRO Institute is also ideal for emerging, high potential and fast-track HR professionals.
Tuesday, September 17th
8:00 am

– Registration & Breakfast
8:30 am

– Welcome & Introductions
8:45 am

– Discovering Hidden Talent in Underserved Communities


As globalization ebbs and flows, cities need to establish themselves as global centers, careful not to slip into market obsolescence, especially when facing difficulties in labor force supply chains. In order to alleviate the difficulty in supplying industry-ready professionals to a city only recently maturing into the digital-centric business world, firms need to adapt to an "on-demand" and GIG approach. The value drawn from this paradigm lies in its cyclical nature. By obtaining localized underserved human capital at a lower cost, firms can generate a fundable supply chain of talent and diversity as markets change over time.

10:00 am

– For HR Leaders, the Age of Disruption is a Time of Opportunity


We're living in a time of relentlessly accelerating change where no industry or function is immune to disruption — including HR. Just think about some of the issues that are front-and-center for today's HR leader: supporting and partnering with a diverse, multi-generational workforce; managing bullying and harassment in the workplace; mastering new analytical tools and delivering data-driven insights; navigating the talent war and skills shortage; cultivating an inclusive and purpose-driven corporate culture; pivoting to the role of strategic business leader … the list goes on. Despite—or perhaps because of—the complex challenges faced by HR leaders today, Marsh & McLennan CHRO Laurie Ledford believes there's never been a better time to be working in our industry. Drawing on over 30 years of experience, best practices and life lessons from a journey that led to her seat today on the Executive Committee of a Fortune 250 company, Laurie will share her unique perspectives on everything from the importance of culture, to developing an effective mix of "hard" and "soft" skills, to navigating the corporate directorship landscape, to the future of HR.

11:15 am

– HR & Organizational Transformation at Bank Leumi USA


How can sleepy 60-year-old bank transforms to become high performing, entrepreneurial organization with double digit year over year growth? In this session, Tatiyana Cure will share her experience transforming the HR team and function, leadership team, and developing a talent strategy aligned with business strategies to drive organizational performance while maintaining the unique culture of Bank Leumi.

12:30 pm

– Lunch
12:45 pm

– Group Discussion
1:15 pm

– Corporate Social Responsibility


The Role of HR in building and contributing to Social Impact initiatives as a driver of both employee and consumer experience. We will formally launch our Social Impact Platform for SoulCycle in Q4.

2:30 pm

– Break
2:45 pm

– Coaching Leaders on Living Your Company Values


Identifying your company values is a start, but they need to be more than just words on a poster. HR leaders need to help people live those values every day, which starts with your leadership team. In this session, we will discuss ways you can train, coach and develop your leaders to demonstrate your company values and then how they can develop and coach people on their own teams. Attendees will learn how to create a common language leaders can use to communicate what the values mean, how to recognize people living the values, and how to identify and build values into your development programs.

4:00 pm

– Speaker Presentation Coming Soon
5:00 – 6:30 pm

– Networking Reception
Wednesday, September 18th
8:15 am

– Breakfast
8:45 am

– Engaging a Multi-Generational Workforce


Many organizations today find themselves grappling with in the unprecedented situation of having five generations working together, side-by-side. When you couple the challenges of engaging such a diverse workforce with the growing competition to attract and retain top talent, and the impact of fast changing technology, it's easy to see why the Human Resources organization is strategically poised to push the envelope of how we do business.
In this session we will discuss strategies for not only engaging the different generations in the workplace but we will also pull back the layers of what it means to have a truly engaged workforce that can be counted on to deliver on business strategy.

10:00 am

– People, Data, and People Data


With daily headlines pointing to a lack of women in technology, the gender pay gap, and other talent issues, many HR organizations are not well equipped to provide real insight on these topics to their organizations. Learn how to establish a strong foundation for people analytics, as well as some of the insights Priceline learned along the way.

11:15 am

– Curating the Employee Experience


As "employee experience" has become a critical factor in recruiting and retaining top talent, this session will explore the growing employee experience challenge, the increasing demand for a holistic and integrated work/life experience, and various factors that contribute to a positive and productive employee experience.

12:30 pm

– Lunch
12:45 pm

– Group Discussion
1:15 pm

– The Failures of Diversity Are Not What You Think


In an era where diversity, equity and inclusion initiatives abound and the champions of this work are hot commodities, there are huge swaths of people completely left out of the conversation. Certainly, the need for gender, racial and ethnic diversity should never be reduced to tokenism, and well-planned initiatives will always have the ability to move the needle. But, have we lost some of our focus in this DEI work? This session will challenge your thinking about DEI work. Further, as you continually refine your role as a strategic HR leader, this session will provide you with key takeaways about one of the most overlooked and underleveraged 'D's' in the diversity landscape.

2:30 pm

– Break
2:45 pm

– Agile Performance Management: Powered by Technology


Agile performance management is all the rage but what's behind the headlines? Does the research really support it? How can an organization really make it become part of the business rhythm?
Discover how Infor made the transition to agile performance and used technology and change management to shift the mindset of the organization.

4:00 pm

– Group Discussion
4:45 pm

– Program Wrap-Up
5:00 pm

– Adjourn
116 East 55th Street
New York, NY 10022
The SUNY Global Center, is housed in a distinguished landmark building in midtown Manhattan and has a number of uniquely designed spaces that can host a variety of events, including educational & non-profit functions as well as corporate and private events. Our facility features contemporary furnishings, state of the art audio/visual equipment, and an on-site event management team to ensure the success of every event. The Global Center is also home to SUNY System's New York City headquarters.
Our tuition structure encourages organizations to send multiple attendees. We have found that the more attendees within an organization who hear new ideas, strategies and concepts taught at the Institute, the more likely they are implemented when executives return to the work environment. This is a core principal of the CHRO Institute: practical ideas that can be implemented.

Standard Tuition Cost

1st Attendee

$4,000

2nd Attendee

$3,000

3rd Attendee

$2,000

4th Attendee

$1,000
Member Tuition Cost

1st Attendee

$2,500

2nd Attendee

$2,500

3rd Attendee

$2,000

4th Attendee

$1,000