PEER 150 Portland Regional Dinner
Simple Finance Headquarters
Thursday, October 17th, 2019
Thursday, October 17th
5:30 pm

– Networking Reception
6:00 pm

– Dinner Served
6:15 pm

– PEER 150 Welcome Comments

6:30 pm

– Panel Presentation: DEI is not a Check-Box
Moderator:

Panelists:






Join us for a non-polished, real conversation about Diversity, Equity and Inclusion in the workplace. We'll discuss why this work exists and what's at stake if you don't do it. We'll share a few best practices around how to do this work. Expect an interactive session; we want to hear from you as well.

7:30 pm

– Q&A, Additional Networking & Adjourn
For more information about sponsorship, please contact RyanGabel@thepeer150.com.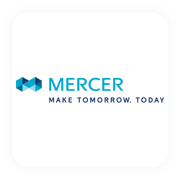 At Mercer, we make a difference in the lives of more than 110 million people every day by advancing their health, wealth and careers. We're in the business of creating more secure and rewarding futures for our clients and their employees — whether we're designing affordable health plans, assuring income for retirement, or aligning workers with workforce needs. Using analysis and insights as catalysts for change, we anticipate and understand the individual impact of business decisions, now and in the future. We see people's current and future needs through a lens of innovation, and our holistic view, specialized expertise, and deep analytical rigor underpin each and every idea and solution we offer. For more than 70 years, we've turned our insights into actions, enabling people around the globe to live, work, and retire well. At Mercer, we say we
Make Tomorrow, Today
.
120 SE Clay St., Floor 2
Portland, OR 97214
Founded in 2009, Simple is a technology company that's changing the way people bank and think about their money. Our product blends budgeting and banking into a single beautiful app, with tools that help people save for the things they need and spend responsibly on the things they want.