PEER 150 Los Angeles Regional Dinner
TechStyle Headquarters
Tuesday, October 22nd
The PEER 150
The Los Angeles members of The PEER 150 are honored to host an evening of networking and content at TechStyle Headquarters. Attendance is open to senior human resources executives approved by our PEER 150 team.
You are invited to join us for an evening of engaging content and idea sharing, along with great food and plenty of networking time with your peers.
We look forward to seeing you on Tuesday, October 22nd!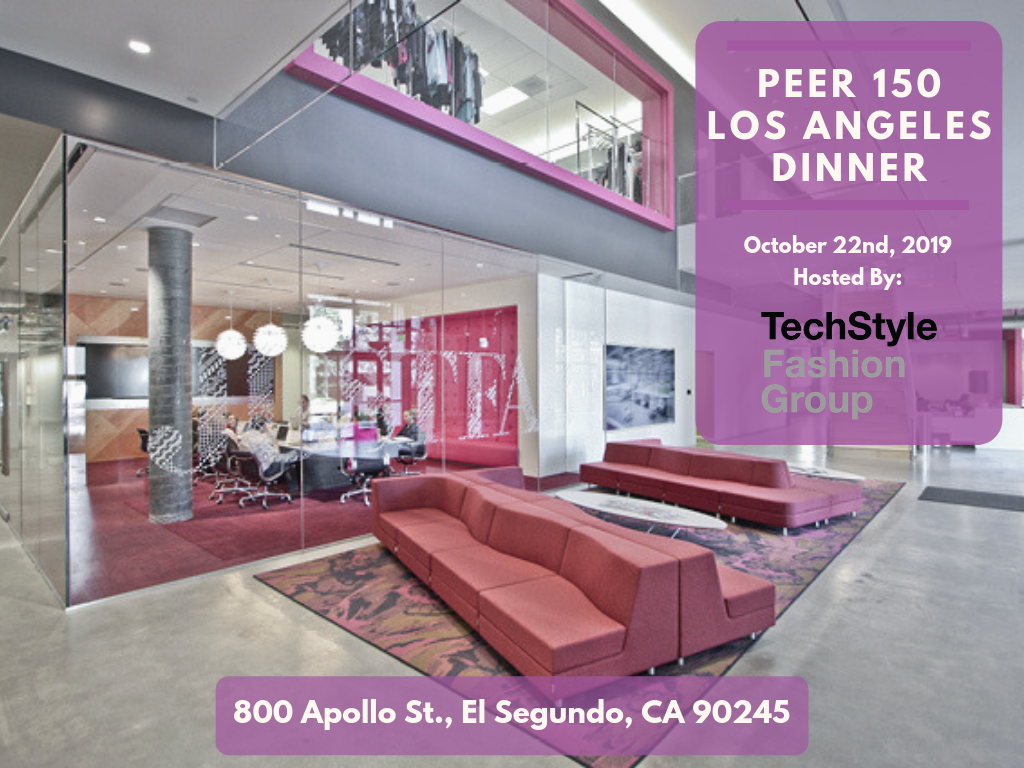 Tuesday, October 22nd
5:30 pm

– Networking & Cocktail Reception
6:30 pm

– Dinner Served
7:00 pm

– PEER 150 Welcome Comments

7:15 pm

– Dinner Presentation


TechStyle Fashion Group is a global fashion retailer that builds, launches and scales digital-native brands such as Fabletics, JustFab, Savage X Fenty, Shoedazzle, and FabKids. Join us at our El Segundo headquarters for cocktail hour and a discussion of the unique challenges associated with spanning the creative fashion and technology spaces. We will share how our HR functions tackle a company comprised of five separate brands and diverse talent needs, including an employee population that ranges from shoe designers to software developers, with European locations, fulfillment centers, and a growing retail presence to boot.

8:00 pm

– Q&A & Additional Networking
9:00 pm

– Adjourn
For more information about sponsorship, please contact CalKeizur@thepeer150.com.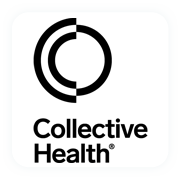 Collective Health is rebuilding everything about how health benefits work. From administering better health plans, to connecting you to the right networks across medical, dental, vision and pharmacy, to introducing an entirely new way to engage with health benefits – our platform creates an all-in-one experience you and your people deserve. We bring together technology + design + humans to redefine how you and your people experience benefits. The impact? Benefits that you are proud to give your people and control over what matters to your company. We're here to help you support your people. Simple as that.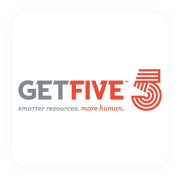 GetFive
is a leading provider of scalable solutions in Modern Outplacement (moving on) and Career Management (moving up). We help employer brands reach their full potential through Active Engagement™. Invest in the success of your employees and watch your employer brand thrive! Learn more at
getfive.com
.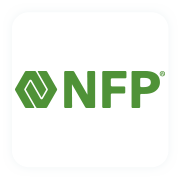 NFP is the 5th largest benefits broker and 9th largest risk broker globally. At NFP Corp., our solutions and expertise are matched only by our personal commitment to each client's goals. We're a leading insurance broker and consultant that provides employee benefits, property & casualty, retirement and individual private client solutions through our licensed subsidiaries and affiliates. NFP has more than 4,300 employees and global capabilities. Our expansive reach gives us access to highly rated insurers, vendors and financial institutions in the industry, while our locally based employees tailor each solution to meet our clients' needs. We've become one of the largest insurance brokerage, consulting and wealth management firms by building enduring relationships with our clients and helping them realize their goals. NFP is headquartered in New York, with corporate offices in Austin and Chicago. We also have more than 200+ sales offices across the country.
In today's highly globalized, digitized, and competitive marketplace, employers are finding it extremely challenging to recruit and retain top talent. In an attempt to gain a competitive edge in the marketplace and distinguish themselves as a top employment destination, employers have been diligent in identifying ways to enhance their benefits package, particularly those pertaining to financial wellness. Consequently, financial wellness has become THE big buzzword in the HR industry, gaining mass popularity with top companies across the country. College savings, in particular, is at the top of the list being a zero-cost benefit with a measurable impact to the bottom line. The ScholarShare 529 Workplace Savings Program can be added to an organization's existing benefits lineup at no cost, giving their employees access to a top-rated, low cost 529 college savings plan, and the easy option of contributing to a college savings plan via payroll direct deposit.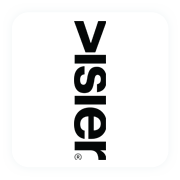 Visier is the Global 2000 choice for people analytics and workforce planning enabling organizations to see insights in complex data to make critical business decisions that lead to better business results today, tomorrow, and beyond.
Visier provides clear answers to hundreds of critical, best practice HR questions. Chosen by 150+ large enterprises, Visier takes you from reports to advanced self-service analytics and scenario-based planning.
For more information, visit https://www.visier.com.
800 Apollo St.
El Segundo, CA 90245
TechStyle Fashion Group is comprised of high-value membership driven fashion brands supported by a community of more than 5 million active members. Our members buy from us because we bring them personalized, on-trend style at an amazing value.