Foreign Cinema
March 2, 2016
The San Francisco members of the PEER 150 are honored to host an evening of networking and content in support of the PEER 150 National event in Silicon Valley in November.  Attendance is open to senior human resources executives approved by our PEER 150 team.  You are invited to join us for an evening of engaging content and idea sharing, along with great food and plenty of networking time with your peers.
We look forward to seeing you on Wednesday, March 2nd!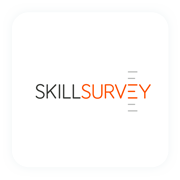 SkillSurvey helps talent management professionals excel at critical stages of the talent lifecycle to drive their organizations forward.
Our patented solutions harness the power of data to help source, recruit and hire the best people for their organization by applying data and insight to transform the talent lifecycle from an inefficient process into a streamlined, high-confidence workflow.
Our customers build strong pools of talent, find better people who stay longer and do amazing things.

About Castlight Health
Our mission is to empower people to make the best choices for their health and to help companies make the most of their health benefits. We offer a health benefits platform that engages employees to make better healthcare decisions and guide them to the right program, care, and provider. The platform also enables benefit leaders to communicate and measure their programs while driving employee engagement with targeted, relevant communications. Castlight has partnered with more than 190 customers, spanning millions of lives, to improve healthcare outcomes, lower costs, and increase benefits satisfaction.
For more information visit www.castlighthealth.com. Follow us on Twitter and LinkedIn and Like us on Facebook.
2534 Mission Street
San Francisco, CA 94110
Open since 1999, Foreign Cinema restaurant has garnered local, national and international acclaim as a quintessentially San Francisco dining experience. We offer a daily changing California/Mediterranean-inspired menu in an industrial chic setting located in the heart of the bustling Mission district. Dinner is served nightly as well as weekend brunch both Saturday and Sunday. Foreign and independent films are screened in our covered outdoor courtyard. Seating is available indoors fireside as well as upstairs in our semi-private mezzanine overlooking the dining room. Guests may enjoy cocktails and our complete menu from the main bar or on the patio outside. Modernism West, an art gallery in collaboration with Martin Muller and Modernism Inc, is open to the public most nights and is an ideal space for private dining. After dinner drinks with rotating DJ's completes the evening in our adjacent bar, Laszlo.